FIXEDWHEEL STORIES
Here is a selection of stories sent to me by fellow fixed rider's.
Stockport Clarion
Duncan Hewitt of Stockport Clarion tells a tale of descending a hill near Macclesfield at 37 mph on 63" fixed, now that is serious twiddling. He also tells of a clubrun taking in Toot Hill, if you dont know the hill its the one next to Standing Stones and the steepest in Macclesfield forest. When you consider the 1in 4 gradient, the rough surface and 63" fixed they did well to only have to walk the last 100 yards. Another story is of Graham Pearce descending a 1 in 5 near Hebdon Bridge again on 63"fixed. A very rough surface and hairpin bend did nothing to slow him down, in fact he left behind the people on gears.
StevesTale
This tale is of twiddling not the piece of hair at the back of my head. Last year I was descending the hill between Axe Edge and Harpur Hill on 64" fixed and achieved a max of 38 mph thats over 190 rpm, I didn't feel in control and I dont think the top chain was very tight.
To hear another account of my twiddling, take a look at Great balls of fire on the Team spirit website.
Nick's Tale
Buxton CC's Nick Sharpe has a fine memory, he tells a tale of riding the Rutland CC club 10 at Hathersage in the mid 70s on 84" fixed. He then rode home up Mam Tor on the same gear, he points out that he was also using 165 cranks. Personally I dont know what all the fuss is about. Whats wrong with Winnats Pass. No seriously if you know the hill you will respect his claim, If you think you have done better then you know who to tell
A story from down under
Paul Webb from Perth Western Australia contacted me with a story of one of his clubruns. He was riding 72" fixed and decided to let fly down a short steep hill, He managed 1 kmh per inch of gear, 72 kmh is pretty impressive, thats about 43 or 44 mph in English. His clubmates on gears were left behind in total amazement, or as Paul put it, they waited behind to watch with morbid curiosity.
More from the other side of the world.
If I was to ask you to name the top Australian persuiter of the late 80s and 90s you would probably say Dean Woods, but there was another less well known persuiter who was probably Australia's top persuiter in the late 80s, Tony Davis. In December 1994 Tony put a front brake and a 96" ( 50 x 14 ) gear on his track bike and put the equipment poseurs to shame, he belted out a super fast 20-33 for 16km ( 10m ). The course was fast and flat but with no traffic assistance and the time stands as the Western Australia 16km record
Not everybody likes riding fixed.
This one is courtesy of Cycling Weekly. In 1912 the organisers of the Tour De France decided to ban freewheels saying they were a mechanical contrivance designed to make life easier for the cyclist. The idea proved very unpopular with the riders and was soon dropped. Considering the stand being taken by the UCI on bicycle design I am surprised they havn't picked up on this one yet. Perhaps I should give them a call.
And not everybody likes fixed bikes.
Here's a little "fixed" story - In my early teens I cycled around on what we called skid kid bikes - old bikes with cow horn bars, low saddle and single speed. Then my dad bought me a Claude Butler Jubilee with Benelux 5 sp for Christmas 1954. It was a fabulous looking bike in flam red with chrome forks. Dad had a very modestly paid job and had to borrow the £24 purchase price. Two weeks later he went spare with me for taking the gears, mudguards and the back brake off and converting the bike into fixed. In my teens and early 20's I had reasonable success at grass track and also rode in local TT's but dad never once came to see me or even mentioned cycling to me. So my first experience of going fixed caused a big family rift that lasted for many years.Then I bought a second hand road bike and started to win a few road races -and guess what? dad started talking to me about cycling again, maybe because I was riding gears.It was not until then (10 years later) that I realised how deeply I must had hurt my dad when I stripped down the bike that he had gone deeply into debt for.
Thanks to Terry Coging for this story.
The rot begins.
In 1936 the Tour De France organisers allowed the use of multiple gears for the first time.
The rot continues.
In 1961 John Woodburn, Barnet CC, won the national championship 25 in a time of 56-01, to become the first man to win the champ's on gears.
The DF files.
Pictured here on the back of my tandem and preparing to ride a 2up is a long time fixed rider and good friend, click here to read Dave Fearon's story.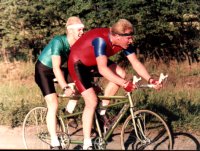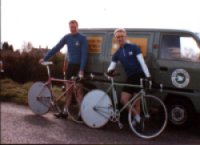 Look no gears.
Martin Pyne on fixed.
I was speaking to Martin Pyne ( now riding for Anglia Velo ) after the Haverhill Wh hilly. He told me he always trained on 72"fixed when he was going well. When you consider he was National 25 mile champion in 1981 and he held competition records for 10 miles with a 19.41 and 30 miles with a 1.00.11. It did him no harm at all.
True fixedwheel nutter.
Fellow Team Spirit rider, Roger English questions being associated with fixed riding, saying it makes him look like a nutter. Well read this and tell me who you think the real nutter is ?. Roger borrowed Gerry Shepherds track bike to use on the velodrome, after being talked into riding the Altrincham Ravens medium gear 25 he asked Gerry if he could also borrow the front brake for this bike. He completely forgot to fit this brake and set off to try the bike out, the only problem is he lives on a very steep hill in Bollington ( Posh Cheshire ). one major panic later and minus a shoe plate he managed to bring the bike to a halt, trouble is he didn't learn. Come the day of the Ravens 25 he proudly displayed his front brake in full working order. He set off once more to try out this fixedwheel thing, unfortunately he hadn't fitted his pedals properly and one came off. All that pratice at one legged riding came to nothing, he bounced off a passing car and hit the road in spectacular fasion. Yes Roger you were born to ride gears, or have you ever thought of the bus ?, its a lot safer.
An even bigger fixedwheel nutter.
Just take a look at this story I got from Leon Mabire (Team Sheep).
Hi Steve, 'Tis true, I rode a MTB race on a fixed. How do you know this? It was one of those silly pub arguments, a few sheep suggested that it wouldn't be possible to MTB on fixed, as a devotee of fixed I maintained it would be no different to riding my usual singlespeed steed, but with more pedalling. I threw together a wheel using the cheapest hub I could find, and used my normal singlespeed 32:16 gear. I swapped the clipless for a set of platforms as well, reasoning that should I need to dismount quickly, not being bolted to the bike would be an advantage. I span into the paddock, and handed the bike over so every other rider could see how far they could pedal backwards.
The race went surprisingly well, I secretly guessed I might have problems on the technical bits, luckily Guernsey MTB courses tend to circumnavigate flat grassy fields so it wasn't too bad. The platforms were an inspired choice though! Just like singlespeeding really, my poor position overall was more down to the fact that the singlespeed category I was in was started 2
minutes after everybody else.
Oh yeah, no back brake either, Just because I could. In all honesty a fixed wheel MTB will never go fast enough to justify braking.
Not a day for gears.
Yes Mr Truncheon its your turn, Mr Trumpton is always taking the p*ss out of me on windy days when I say its not a day for fixed. In a drunken haze last winter Mr T said he would ride an open event on fixed, he normally only rides the medium gear, which I must add has given him his best ever position in an event, 6th. So the day came, Saturday May 27th 2000, and as promised Mr Twiddle turned up for the South Lanc's RC charity 10 with 82" fixed. The J4/3 is a nice flat course, but a crap surface and loads of junctions and there were no prizes , so nothing to loose. The wind was blowing, Mr Todger went round in 24-00 to take 6th place and equal his best ever position, best thing is if it wasn't a charity event he would have taken home some prize money, I even caught him talking about how the gear felt on King Street. Come on Martin read the result sheet and learn a lesson, M Trouse ( Team Spirit ) 6th, well done.
I feel I must add to this story, In the Nova CC 50 Mr T did a cracking ride which looked like getting him a top 10 placing, Only trouble is he was on gears, Fortunately the last few times were fast enough to keep him out. I also heard a great excuse for head down riding, he reckoned he was looking at his gears, you wont catch us fixed riders doing that.

More from Mr T.
| | |
| --- | --- |
| | Yes folk's he's at it again, Mr Trumpton found another excuse to dump that heavy spring loaded affair that needs loads of extra chain, cables, levers, sprocket's and thought whils't riding. Yes folk's he's back on the cog, the event was the Manchester Vet's 10 which should have been on the J4/3 so he chose 88" after hearing the forecast promising a light S/E wind, perfect. Arriving at the event H/Q Mr Trumpington first learned a course change to the very heavy J2/3, add to this the moderate to fresh westerly wind Mr T was beginning to regret his choice of gear. Why then Mr T did you do your fastest 10 of the year on Cheshire ?, I will tell you why Mr T, you were on fixed, Its as simple as that. |
Back on Fixed.
Sam ( Brian ) Tomlinson, Stone Wheelers informed me he is returning to fixedwheel riding, Great stuff Sam and good luck, I am sure you will go faster. Now then this is a stories page but the next story has nothing to do with riding the cog, Years ago whilst still a member of Buxton CC, I used to do the club dinner rounds with John McDonald, better known a JJ. We took a weekend off to stay with Sam and Pauline and share a few glasses of wine ( a few too many that is ). During our thirst quenching session a guy from Kershaws came into the pub with his basket full of sea food, JJ thought it would be a good idea to buy some kippers for breakfast the next morning, he slipped the sealed packet into his inside jacket pocket. The next morning we were awoken to the smell of a full cooked breakfast, so the kippers stayed in the jacket pocket. Several months later the next club dinner upon us JJ took out his suit and thought, What the hell is that awfull smell ?.
A truly shocking story.
I have sold my soul, Yes folks Mr fixedwheel himself has just won the Team Spirit freewheeling competition. My one and only race of the year on gears and I wasn't allowed to pedal, Still 15 stones of relaxed muscle did the trick just as well.
A tale of woe from Bernard Corfe.

I was a juvenile, briefly a member of a cycling club. At the time I was nearly skint and rode a cobbled-together bike with a 68" fixed wheel, no problem for my clubmates there and I went along on a series of Sunday clubruns. As I got fitter I tried to join in the playful attacks during the ride. On one notable occasion, I attacked downhill towards the end of a ride in North Wales, spinning like a fool I put some clear distance between myself and my horrified clubmates. Did they seek to encourage this youth, or embrace training techniques which are now being re-discovered by top pro's ? Did they f***. They banned fixedwheel from clubruns thereon to hide their shame at being stuffed by an undergeared kid. I was put off cycling for a couple of decades by their attitude, though I have recently found soulmates in the form of Yasumitsu Schlapp. Ironically, another member of the club went on to get a couple of national and world records on fixed. I shan't mention the name of the club, but I can say they were based in the north of Wirral.
Another tale of woe from Stephen Briggs.
Stephen told me he used to ride grass track on 72" fixed and would also ride this bike on the road. On one occasion he was riding down a steep hill at high speed when one of his calves cramped up, no brakes and feet strapped in it took him 200 yards to stop. He fell into the verge then had to ride home one legged, I doesn't sound like he enjoyed the experience.
Fixed is fast.
Back in 1995 Zak Carr did a 19.04 on 92" fixed on the F5/10 near Milton Keynes. This has to be one of the fastest rides ever on fixed and even more stunning when you consider the gear he rode.
The bike has travelled north and is now in the posession of Adam Hardy, he has already done a 19.44 on a larger 102" fixed.
Joe's Story.
125 miles on a Fixed Gear Bicycle
One gear. No coasting. Daydream for one second and you're over the bars. With all the technology available in cycling today why would someone punish themselves with a single gear throwback to the 1890's? Why 125 miles on such a dinosaur? It's fun of course! As I wheeled to the start of the 200km. Brevet hosted by the Potomac Peddlers in Warrenton Virginia, my primitive velocipede began to attract the attention of the gathered masses. Double takes and open-mouthed astonished glances were the order of the morning as I parked my steed and walked to the registration area. "Wow, you're going to ride that!" was one of the comments I heard. The ride begins with several miles of easy rolling hills, but I soon realize that this will be a supreme test of brute strength as the first out of the saddle quad-burning ascent has me mentally reevaluating my early season goal. Finally at the top, I breathe an uneasy sigh of relief as I realize I now get to descend this monster. Quickly the revs build as my unforgiving ride reminds me that it was designed before freewheeling technology was available. Half way down the hill as I peer into my rearview mirror, I notice the sinister form of an onrushing bike. Two helmets! A tandem busts by me at double nickels! With Mack truck swiftness it passes in a blur of water bottles, touring bags, and gleaming alloy, it's possessed pilot complete with demonic grin. You can only climb so fast I say to myself as I pass them on the next uphill grinder. After several miles of endless climbs and equally endless descents, I begin to make critical errors in cue sheet navigation. BLO RT. 608 TRO Such and Such Road at State Highway Blah Blah Blah…God how I love my own cue sheets! This process of following directions written by another cyclist is just not for me as I make another wrong turn. "Where am I?" I begin sobbing as I pull to the roadside and unfold the brevet map that is plastered with Rt 611, Rt.612, Rt.715, Rt.751…Confusion and dyslexia reign as I slowly put the pieces of this puzzle together. If I make the next right and then the next left I should be back on course I reassure myself. Hmm…Yes…Eventually I am able to navigate to the second checkpoint, a restaurant. After signing in, refilling water bottles and eating a small mountain of mashed potatoes, I feel refreshed and start out on the second half of this epic journey. And this is where the real ride begins. Ten miles or so of flat riding along a river leads to the foothills of Old Rag Mountain, a switchback adorned climb that has me turning the pedals over in the low forty-rpm range. One steep section of road after another with no chance to sit and conserve energy. Just stay out of the saddle and work the bike. Not pretty but obviously pretty effective as I drop three geared riders near the top of the climb. Of course I am left in the dust as they drop into fashionable aerodynamic tucks and freewheel down the mountain. On the other end of the scale there's me, trying to descend in a controlled manner as un-aero as possible in an attempt to slow the mad eggbeater careen that my legs have become. At one point the road turns into a series of cartoon-like climbs. So steep (can you say three miles an hour boys and girls?) and repetitive I'm reminded of a five-hump camel. That wasn't so bad I delude myself as a cold rain begins to fall. For twenty miles I wrestle with the thought of stopping and pulling on knee and arm warmers and a light rain jacket. "I'll be OK," I mumble through chattering teeth. Finally! The last checkpoint. A Mom and Pop store in Backwater, Someplace. Twenty miles to ride the elderly owner informs me as I stuff two mouth fulls of peanut butter crackers into my gob. Draining a bottle of Gatorade, I come to the wise decision to pull some warm dry clothes over my soggy limbs. Much better, I set off to conquer the last miles. I'm always amazed how I can personally control the weather. Within five miles I'm back off the bike pulling my nice warm clothes off as the sun breaks through and the temperature climbs. Actually a good omen as I tackle Piney Mountain the last big climb of the ride. Two miles of leg searing effort later I crest the monolith and cruise to the last turn. Fifteen minutes later I ride to the finish and am totally blown away by the support and congratulatory words of the riders who have finished ahead of me. I managed a respectable 16th out of 41cyclists. Derailleurs are for failures?
Not really. There are times when a few gears come in handy.
Joe Sommers
Jim's record ride.
Last year in the Wisbeach Wheelers 25 I had my first open 25 victory beating Ian Cammish , I was riding a converted track bike previously owned by Bradley Wiggins with a 100" gear, The Fenland course is very exposed with a hard climb on the return leg, I knew I was "on a ride" on the return leg after i had caught my 5 minute ( and also team mate) on the climb and sailed past effortlessly, I finished with a time of 54.43 a new course record beating Gary Dightons mark by 8 seconds. I hope you find my story of some interest.
Best Regards
Jim Burgess Anglia Velo
Jack Spicer (a living legend).
Here in the Peak District legend has it Bradwell man Jack Spicer rides his fixedwheel bike everywhere, uphill, downdale, rain or shine. An old friend of mine (Bob Mellors) told me he rides around 100 miles a day all year round including Christmas day and not a gear in sight. More on this story when I catch up with him, or more likely when he catches me up as I am told he is extremely fit.
Clive's Story.

Clive Tomblin (Sheffield Phoenix) sent me this one.
I've had a love affair with fixed wheel all my life -. I started cycling with the Scarborough CTC in 1957, but before that I can remember trying to describe a bike to my Mum without knowing what it was called, and she told me "it's a fixed wheel bike". Quite how she knew I'm not sure because her interest in cycling is zero. From then I knew it was fixed wheel for me.
For my come-back (in 1996) I bought a state of the art Gios with lots of gears and ergo levers, and I raced on that quite happily for that year. Part way through 97 I was feeling a bit stale so I thought I would get my old track bike out of the garage and ride that for a change. It was rusty, so I rubbed it down, painted it, put some decent kit on it and got on the start line for a club 10. I was sure I had missed an opportunity for a decent time because it was a super day, and there I was on a 25 year old hand painted track bike, with 93" fixed. But guess what - I loved it, and I was pleased with my time, and I haven't raced on gears since. My Gios now gets used for inside-ring training rides the day after races.
Stewart House.
I first met Stewart on the O10/2, as I rode down the lane next to the event HQ I noticed a fixedwheel bike by his car. He says he cant offer any stories about trouncing the opposition on the one cog, he just enjoys riding fixed, be it racing or the winter clubrun. Stewart says he has raced on fixed all this year (2001) doing well but not breaking any PBs. Having packed up racing a few years ago he sold all but his track bike and when he started up racing again he intended to ride fixed for a few events. Two years later he is still riding fixed which means he either loves it or is skint.
Richard Pace.
The Clarence Wh cycling club have produced many notable medium gear riders due to Alf Whiteway insisting that youngsters twiddle rather than push, Tony Doyle and Ray Hughes spring to mind. Another rider to do this was Richard Pace, Richard broke the club 66" record with a 59-48. At 130 rpm this has to be on par with Ray's super fast 72" ride but has gone largely unknown because most clubs don't recognise 66" records.
Thanks to Stewart House for this story.
Jon Stroud.
Here is a great little story from Jon Stroud (Time Trial.co.uk), another success story for fixed.
A few years back, having had a cracking winter and some fair rides in early season events I suddenly found my form starting to dip. The endurance was there but despite riding my local track league once a week my top end speed was taking a tumble. I need a solution and fast. This is where my coach, ex-end-to-end record holder Dick Poole, came up trumps and changed my riding for the rest of that season. His suggestion was to stick some tri-bars on my track bike (and a brake!), gear myself in the mid-nineties and ride a couple of evening 10's a week for training.
I was hooked. First time out I couldn't believe how good I felt on the bike. The first time I'd had that feeling for about 6 weeks.
The result was a long 21 on my local 10 course. I was happy! As I rode these 10's I got stronger and quicker and began to learn how to TT on a fixed gear. A couple of weeks later and I was entered to ride a 25 on the A34 / A303 near Winchester. I decided that a 25 on the fixed would be worth a go and tentatively the track iron was loaded into the car. later that afternoon I was celebrating a 3rd placed short 55. Again I was happy. At this time I'd been riding a 98" fixed so I decided to up the ante and have a go on 104".
A midweek 25 on the A34 at West Ilsey seemed the perfect opportunity. It has to be said that it was a good day anyway but
after 52 minutes of effort and a personal best I have to say that again a happier man could not be seen.
I continued to ride fixed for the remainder of the season putting in a 1:50:08 for the 50 and amazing myself and others with a 3:52:12 for the 100 riding a 98" fixed. To cap it all my 10 time came down to 20:45 on the 104".
My general track riding had improved as well. I found myself competing well enough in my local track league to inspire me to ride a few fresh tracks around the country and duly the results came in. A track record 1km at Reading iced that particular cake.
One little incident springs to mind from that summer of fixed. I entered a 2upTT where one rider had to be a vet with John Woodburn. He had his geared TT bike with a monster 56/12 top gear. I rode 104" fixed. The course was the H10/2. Those who know the course would be aware that it's a fast start for half a mile to a roundabout then a slog for a mile or so on a false flat. Woody suggested that he start on the front so I didn't sprint away and that I could pull him up the gradient and he always struggled on that bit of road. No problem I thought. Woody put in a strong start and coming off that first roundabout I took to the front. Riding with an ex-25 champion / comp record holder / end to ender rather makes you rise to the occasion and in an attempt to impress my 2up partner I turned on the gas. "Up Jon, up John" came the cry from Woody. "Christ", I thought, "he's
keen". So harder I went. "Up Jon", said Woody. "Jesus!!" I thought but harder I went again, pulse knocking around 185bpm. "*#&#&*!!!!!!!" exclaimed Woody. I looked over my shoulder. I was doing a 1up not a 2up. Woody was swearing and trying to catch me. Ah "SLOW up Jon". Woody had been on the rivet from the moment I took to the front. Revenge was his on the return down the same stretch of road. When Woody turns 56/12 with two miles to go, 104" fixed tends to be a tad under-geared....
After a few years out of competition a new stable of bikes is in the pipeline and with it a new fixed machine. We'll just have to see in 2002 if the legs still have it!
Sean Yates.
Steve
Hi, thought you might be amused by a story of mine. Back in 87 when Ii was preparing to ride the Nat Pursuit Champs I thought it would be a good idea to ride my fixed in a 10, Ii did a two up with my good friend Brian Philips, I think he was in the Manchester Wheelers at that time, Ii rode a fixed 97, he had gears, the course we rode was the Q10/19, if you are not familiar with this course it has a massive ski slope start, you go over 50mph, anyway, Ii decided not to bother to fix any brakes to the bike, which meant I was pedalling rather fast down that hill, in fact I thought I was going to come a cropper, I did not have a lot of leg speed at the time having just come out of a 25 day long TDF, its not the type of thing I would encourage other people to do. We ended up doing a 19.11, no tri bars in those days. And for the record Ii finished 2nd to Tony Doyle in the Championships. Cheers Sean
'FIXED' UP FOR THE 4 UP!

My first 'BEAST' fixed o' road had to be trailed, and tonight would be perfect night on the A3 Liss, Liphook course, (P881/10). It was a warm, breezy Mid Summer evening as I made my way up the A3 from Portsmouth to Liss in Hampshire, I was nodding away to my favourite tunes on the car stereo, occasionally taking a few sips of 'Lucozade Solstis' and nibbling at a banana, generally psyching myself up for my first ever 10M TT on't fixed.

Finally I arrived at the HQ and as per usual, dieing for that pre race nervous dump. "Two events to choose from tonight Aran" hollered the organiser from across the Carpark, "A ten or a Four Up Twenty-Five, what you.....".
"The Ten", I promptly interrupted. I then proceeded to get the BEAST out of my car and slowly they came, from the four corners of the Carpark they came, faces contorted and mouths agape, "Jeez an't you ever seen a fixed before", came my 'experienced, (HA!) response. They watched as I tightened, back wheel not true, loosened, tightened, shit back wheel still not true, loosened, after about my fourth attempt, I looked behind and my audience had quickly got bored and scurried off back to set up their own machines. "Yes that'll do nicely", back wheel set ready for action, right must go and have that dump before I write a letter in my skinsuit!

Out from the loo, two stone lighter, and Steve appeared out of the blue, (Steve Walking, a fellow VC St Raphael Clubmate, 2002 National Masters Time Trial Champ), "Awright Aran, how's it going. What you ridi.....".
"The Ten, I'm on Fixed and I want to try out my new bike cause I an't ridden fixed on't road before, so that's why I want to.....".
"Ah that's a shame we're one man down for the four up, you up for it?", Steve asked.
"But I'm on fixed Steve, don't think it'd be wise to do a four up for my first time on fixed".
"You'll be alright Aran, what gear have you got on?"
"Oh I won't, 56x13". "That'll be fine, you'll be OK Aran". "I won't". "You will". "No I won't".

Five minutes of 'I will', 'I won'ts' later I volunteered to be their fourth man, and so paid my entry for the 4 UP, my other team mates for this event were Simon Berogna and Pete Younghusband. OK time for the warm up and Team strategy talks, or should I say argument, "Well you said I should bloody be alright Steve". Making our way to the start things had calmed down and we were set. TEN..........FIVE, FOUR, THREE, TWO, ONE. We're off, VVRRRRROOOOOOMMM, "WAIT LADS", I caught them up and settled at the back, "OK lads lets pick it up", fatal, as we we're on a slight upward drag at this time and it wasn't long before I was drag-arseing again, "WAIT" I shouted out again embarrassingly, we were doing 29mph at this time. Great a bit of down hill, time to get that 56x13 gear rolling 31mph, lovely... 33mph, great... 36, UMMM... 38mph, Christ... 44mph, OH MY GOD... 45-46mph, SSHHHIIIIIIITT, Ohh me gristle. How my legs didn't snap off God only knows. Only Twenty Two miles of this torture to go.

Anyway I did get round, with a few helpful pushes from Steve on some of the steeper uphill gradients, he must have felt guilty for talking me into riding with them. I was a bit nervous following a wheel due to the nature of riding a fixed at speed,, but as the miles past my confidence grew. I did a lot of the work on the descents and downhill stretches. We recorded a respectable and winning time of 52:24.

So that's how I was FIXED UP FOR A 4 UP.
Thanks to Aran Stanton for this great story.
Adam Blythe, He's the boy.
Last year a 12 year old lad who admittedly has ridden to a creditable standard on road and track in youth racing came and said " are there any time trials on this week ?"---yes theres one tonight on the A10\20 --Tuxford ----can i ride? ---ok i think we can make it -- get the bike ---- can i ride fixed ? Hang on --yes but it will have to be the winter frame with everything chucked on quick so bring a tape measure for positioning. What gear shall i ride ? err well the starts incredibly fast for first 1\4 mile and its a bit lumpy back from the turn so lets say 74" --ok came the reply . We get to the event just in time to sign on and rustle up a parental consent form having driven the course so the boy doesnt go to Grantham without turning. I go to the turn and surprisingly see him come round holding his own on split time chasing some experienced North Notts riders enjoying the night on gears. I get to the finish expecting to find a long 24 \ 25 min ride given the harder return leg which i thought would be a good effort, only to find he had posted a 22.51 - As this was a one off have a go at the last minute and first TT effort on fixed i thought it worthy of a mention. The event was won by Jon Surtees with a 20.08.

Regards --Mick Blythe Sheffield Phoenix CC
Mersy Roads 24 hr TT on a Medium Gear by Steve Airey
Hi Steve
Here is my 24hr TT report with pic attatched, if you use the pic please credit it to http://www.kimroyphotography.co.uk/
I joined the Catford CC last year with the mind of doing a few time trials eventually with the Mersey roads in mind.
My year didn't start well as a chest infection kept me off the bike for a month and it was a slow recovery, couple that with work commitments and difficulty getting baby sitters to allow weekend rides even my Audax speeds were dropping.

Once my SR was done and dusted I concentrated on getting faster and used my Dads old 1969 Lambert Proffessional that is set up with an 81" gear [rather than my usual 68" gear] for commuting and the evening pub runs*.
I also fitted some Tri-bars that were lurking in the shed but struggled getting used to them especially being able to spin a gear down hill on them, it wasn't until I had looked at my Tour prologue pics that I realised I had them set way to low, so I flipped the stem to raise the whole bar combo to a more comfortable position.
On top of that the Thursday night my bars had been creaking and I discovered they were cracked so I had to swap them over with another pair and re tape them all, as my knees had been complaining about the 81" gear I opted to swap it for a 72" medium gear, well 71.65" gear on the tyres I use.

On Friday I joined up with my friend Mike Friday another Catford CC rider at Euston and we got the train up to Chester and stayed at the Wrexham Travel lodge so that we only had a short eight mile ride to the start on Saturday.
Race day
We met some familiar faces at the start as quite a few Audax riders now ride this event, and some new ones too, Keith an old Catford member now living in Wales had come up to support us and I must say his shouts of encouragement on the way round did loads for the moral.
Mike set off 5 minutes ahead of me he was riding a larger gear low eighties he also had the advantage of three previous rides.
Once on the road I set about my plan, not much of a plan really except to ride as fast as I could for as long as I could, probably too fast at first as a series of personal bests ticked by, the first fifty miles at evens and the first 100 in 5h 29m .
However riding in a low TT position for that long was taking it's toll and I felt like I was breaking my Brooks in all over again, coupled with the muscles in my thighs and backside burning, to ease up some of the small hills on the circuit I had powered up were now ridden out of the saddle and my average speed was slowly dropping but I was still on for my target of 300miles so just kept plugging away.
I really suffered in the night and stopped at a couple of feed controls for food water and a quick five minute power nap but at 4am I knew I needed a bit more.
At the Prees Island control I took advantage of Lynnes Cafe and a full english breakfast a chat with our supporter Keith and his Welsh Twelve Hour TT ride followed by a half hour kip, I felt much better afterwards, still in pain but at least I was not wobbling all over the road, unfortuneatley my average speed didn't look any better.
By about 10.30am they started moving us up to the finishing circuit and I had just passed my 300 mile target and felt, well bloody awful really every bump and ridge in the tarmac was like a kick from a mule and it felt like more and more people were overtaking me, all be it with encouragement of "dig in, keep it going".
The finishing circuit of just over thirteen miles was horrible, a painfully bumpy road surface and a mix of long drags and a few little steep hills thrown in.
Just past the HQ/ Start was the worst drag and hill of the circuit and I had mentally worked out that even with my ever slowing average speed I would have to ride it again, well I have to confess I could not face that again so I spotted a pub on the circuit in Aldford and nipped in for a pint and a packet of crisps and ten minutes on a seat that wasn't Brooks shaped, much to the amusement of two old Anfield CC members sharing the bar who quipped "thats what I like mad enough to ride a twenty four and still want a beer on the way round"

Back out on the bike I finished my 24 hours just before the HQ and could roll the last miles to finish and stuff my face with bacon butties.
My trip computer said 344 miles but the provisional result is at 334 until they fully calculate the course as it had to be changed due to flooding, every body seemed to be ten to fifteen miles down on their computer displays.
Apart from the pain I really enjoyed it the organisation was first rate and the help and encouragement from all at the roadside was a great moral booster and probably worth a good few miles at the end.
Cheers
Steve Airey

PS I rode the last Bexley CC evening 10 on the same bike and gear on the old A20 course near Brands Hatch with a time of 26m 45s, not my fastest but I intend to improve on that next year.
cheers
Steve
Good days/bad days by Mark Amor
Steve,
i always ride fixed and always on 108" (52*13)......this september i rode Levens 10 course on a "floater" of a day as the locals call it. The head wind on the down hill start held me up just enough to stop me "spinning out" and the tailwind back helped me up the long drag back to the finish . I rode a 20:37 PB on what was a perfect day for fixed.

One week later i rode our open 50 on the same gear, the wind was howling down Embleton bank on the A66 and i rode out to the roundabout trying to convince myself it wasn't a force 7 gale at my back...i was just going really well!! I passed a junior rider and gave him a shout at about 40 m.p.h.Upon reaching the roundabout i hit the wall on that ridiculously big gear as the force 7 gale reduced me to a crawl and i wrestled my bike for the next 37.5 miles weaving up Embleton bank at about 6 m.p.h. Just over the finish line both my hips cramped up and i fell into the verge, the junior rider i had passed had been picked up by his dad at the finish and stopped to see if i was o.k. No i said, i can't walk! The young lad rode my bike back to the headquarters and i got a lift with his dad. I had to drive home in the same gear all the way as every time i moved my leg to change gear or brake i was crippled with cramp.

There are good days and bad days for riding fixed gear.....

regards Mark Amor VC CUMBRIA
Nic Stagg
Hi Steve here is the picture and the story, my partner Joanna and myself were on holiday in Las Vegas in November 2011, we found a bike shop out of town call Procyclery, after enduring a 2 and a half hour bus ride we found the shop, I walked in saw the frame and thought "I'm having that!" got it shipped back to the U.K. and built it up during the next few months, it runs on Corima wheels (track disc rear and Aero+ front) Campagnolo chainset, Deda aero bars and stem, carbon brake levers (in the picture it's got Shimano 600 calliphers it's now got Campagnolo Centaur) Look Keo pedals, I've done 58:07 on the sporting CC01 Drift road circuit also I won our club "27 mile Hilly" last October in 1:05:08 by over 5 minutes! I've done a few 21's as well, the story is all the more bittersweet as a week after returning from Vegas we were burgled our shed was broken into and 16k of bikes was stolen including my Kestral TT bike and Jo's Giant along with road bikes, my Dolan track bike (I'd beaten an un-paced hour record on this bike in September 2011 which had stood since 1969 recording 24.775 miles on Reading track, its the hardest thing ive ever done, but thats another story!!) I'd always wanted to build a Fixed TT bike, I love it, it's fast and uncomplicated, I like to race on fixed sometimes as it means I can't worry about what gear to use. Hope you find the story of some interest (feel free to edit it if you want) Regards Nic Stagg (Hounslow & District Wheelers)

Please keep the stories coming in